This week I am joining the fun for Breastfeeding Blog Hop, Week 5.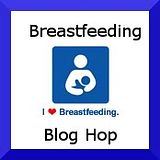 This weeks theme is Nursing In Public (NIP)
Nursing in public eh? Three kids later and I'm just entering this field. Of course I don't count family as public. I don't think I nursed in public for our first two children and with the unexpected arrival of number three...all the chains came off.
Our third child. And he's a porker. No really...he was 8 lbs 7 oz when he came out and I'm guessing at 8 weeks old he's close to 15 lbs. Wearing a size 3 diaper and 3-6 month clothes...tightly. Having such a "healthy" baby has turned my life into an every 3 hour feeding cow. When he's hungry..he wants it. But sometimes, just like testing the water at a pool, he has to taste the boob before he eats. So I'll get him into position and he'll look at it...and stick his little tongue out, like a snake, and make sure it's ok. haha.
In his short life here, I have nursed him in restaurants, church and in front of my husband's friends. And in these places, I haven't been weirded out or super paranoid. Until we decided to drive up to ALASKA in the middle of WINTER! With the use of a hand pump (another post entirely) and frequent stops I managed to keep up the milk production. On one of these stops we landed ourselves in a grocery store in the Yukon. With Eskimos. Or natives I guess is what they call them:)
Mr. Porky pants was hungry...no joke! So we decided to take a longer break than normal and let us all stretch our legs and get him fed. There were two "natives" there eating so I found a corner in their grocery/restaurant with my back to them, whipped out my hooter hider, and commenced with the feeding. (I have to say that this was an all inclusive stop because it had groceries, a restaurant, and a separate laundry area that was glassed off.) While I was doing my duty the hubby was figuring out something with the car. So I was trying to keep our 5 year old under control.
Unbeknownst to me the "natives" finished eating and left the dining area. I see, out of the corner of my eye, one of the guys standing in the laundry area. He was looking straight. But I knew if I could see him, he could see me. Are you serious? Granted I was all covered up, but he just kept standing there. He'd walk to the washing machine...do his thing and then be right back there...standing diagonal and no more than 3 feet away! haha..even when the hubs came in to sit with us he was still staring.
I don't know about you other Moms, but when I'm in breast-feeding mode, they aren't pleasure things anymore. They are like big ol' cow teats. And that is there only purpose...to feed the helpless infant. But I can't get my husband to understand that, much less, a Yukon "native"!
And so continues my nursing journey with all it's insanities!

About me-I'm a 25 year old SAHM nursing my third child. My family just moved to Alaska. Follow me and the insanity that ensues with 3 kids, a husband and moose!